Visit our beautiful old town, which has been designated as a monument, and let yourself be enchanted by the colourful half-timbered houses from five centuries, the historical sights and the picturesque squares.
Experience originality, cordiality, cosiness and Rhenish cheerfulness.
Guided city tours in Linz
Looking for an individual city tour?
We are happy to assist you in planning your excursion. Send us a non-binding request under the following link.
Gruppe Touristen im Sonnenschein vor dem historischen Rathaus und dem Ratsbrunnen die dem Gästeführer lauschen
The "Colourful City at the Rhine"
Follow our tour of the old town and discover the historical sights of Linz at the Rhine.
The nature around Linz offers pure hiking pleasure. In addition to the premium circular trail "Rhein-Steig", which offers an exciting and varied trail through the Rhine Valley, it is also Linz's "LZ-Rundwege" that offer the perfect choice for every hiking preference. Not only the nature of Linz invites to undertakings, also the Rhine holds on board one of the many ships great opportunities for excursions of a special kind - whether sightseeing tours, theme cruises or party location.
Lovers of art and culture have the opportunity to visit a wide variety of exhibitions in Linz throughout the year. Local artists as well as well-known artists from the region and beyond present their works of art, paintings, sculptures, graphics and much more.
We wish you a lot of fun in Linz at the Rhine!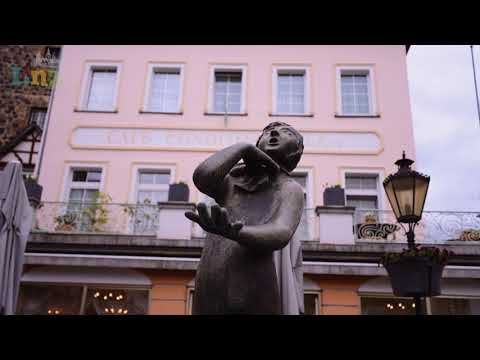 ​